Small Beginnings
I grew up in a rural town in middle America. I was taught that the things I wanted would not be handed to me but that I would have to earn them through desire, hard work, and dedication.
At the age of 13 I began to become interested in music. A school friend of mine had an older brother who played drums. He introduced me to music like ZZ Top, Robin Trower, James Gang, and more. I was instantly enamored and began to buy music of my own. I bought albums by ZZ Top, Robin Trower, James Gang, Aerosmith, Led Zeppelin, Deep Purple, Peter Frampton, and anything that caught my ear.
At the encouragement of my grandmother, I took a couple of years of classical piano lessons. Like most young teenagers, I hated practicing. There were a lot more fun things to do. What I didn't realize was what this musical training was preparing me for.
Ingesting All Types Of Music
For the next six years I literally listened to thousands of songs and I didn't limit myself to rock. I listened to anything that sounded good to me including fusion, jazz, reggae, blues, country, classical – you name it.
My First Stringed Instrument
Finally, at age 19, the desire to play music began to burn in my soul. I bought a cheap bass guitar and taught myself how to play. The prior music theory I learned in my piano lessons was invaluable. By this time I was listening to some of the best players on the planet like Abraham Laboriel and David Hungate.
The Night That Changed My Life
One of my favorite bassists was David Hungate of TOTO. I went to a TOTO show just to see him play. Before the show I talked to the FOH sound engineer and was very disappointed to learn David had left the band just three weeks earlier. Little did I know that night was going to change my musical life forever. TOTO's guitarist, Steve Lukather, was a wild man on guitar. He played with so much fire and energy. I was stunned. That night I knew I wanted to be a guitar player. The photo at right was from that show. Thanks to Paul Doyle for sneaking his camera into the venue and getting some great shots.
Crash Course In Learning The Guitar
Shortly after the TOTO show, I traded my bass for my first guitar and began to teach myself chords and lead. I listened to my favorite guitarists (primarily Steve Lukather, Mike Landau, and Dann Huff) and tried to learn everything they did. At that time they were the busiest pop/rock session players in LA and Nashville so I had hundreds of songs to choose from. I used to sit for hours each day consuming a steady diet of TOTO, Boz Scaggs, Don Henley, Olivia Newton-John, Rod Stewart, Michael Jackson, Whiteheart, Amy Grant, Michael W. Smith — anything those guys played on.
Within six months after picking up the guitar I had become a pretty good lead player and a decent rhythm player. I can't really take credit for it though. I know my talent was given to me by God and it is He who deserves all the credit.
My First Band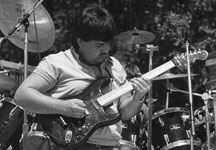 17 months after picking up the guitar, I was asked to play in the first band I had ever been in. These guys were some of the hottest musicians in my area. Bass player Anthony Sallee went on to become a professional musician playing for some well-known artists (a few mentioned above) and doing a lot of studio work.
Then To Now
Over the years I have been blessed to play with some incredible musicians who helped me become a better guitar player. I couldn't possibly name them all without leaving someone out so I won't even try. I can tell you that some of those guys became successful musicians and producers.
To date, the most successful band I have been in is Nehemiah. Nehemiah was a Christian rock band that was well-known regionally and even got the attention from industry people in Los Angeles. Nehemiah was together for 15 fantastic years. Mark Clay, bass player for Nehemiah, has been playing with the Christian group Newsong since 1996.
Current Bands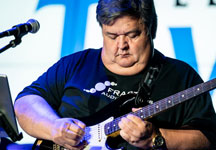 I currently play with a few groups but they are all related. Bordertown is a four-piece Classic Rock, Country, Dance band. Tres Hombres is our acoustic trio. Occasionally, when space is limited, we have an acoustic duo called Urban Sky. I am so honored to play with all of these guys. I have known most of them at least 30 years and they are like family. They are great musicians and singers and I am having a blast learning to play some country which I've never done before!
Bands I Have Been In
Below is a list of bands I have been in over the years (newest to oldest). I am going to attempt to name all of the full-time members of each band. If I leave someone out, please forgive me.
BORDERTOWN (Current Members)
Chad Jasna – Lead Vocals, Guitar
Steve Lockridge – Guitar, Vocals
Mitch Hughes – Bass, Vocals
Chris Beam – Drums, Vocals
BORDERTOWN (Past Members)
Pam Camp – Lead Vocals
Patrick Neal – Lead Vocals, Guitar
Aaron Scroggins – Lead Vocals, Guitar
John Hughes – Guitar, Vocals
Bill Rebsamen – Keyboards, Vocals
Jeff Hoffman – Keyboards, Vocals
Sean Brinkman – Drums, Vocals
Kirk Gaither – Drums, Vocals
Jim Abell – Drums
NEHEMIAH
VERSION 1 (THE ROCK BAND):
Rodney Huckey – Lead Vocals
Steve Lockridge – Guitar, Vocals
Chad Jasna – Guitar, Vocals
Bill Rebsamen – Keyboards, Vocals
Mark Clay – Bass, Vocals
Kirk Gaither – Drums, Vocals
VERSION 2 (THE PRAISE & WORSHIP BAND):
Deron Freeman – Lead Vocals, Trumpet
Steve Lockridge – Guitar, Vocals
Buddy Ashcraft – Guitar, Vocals
Bill Rebsamen – Keyboards, Vocals
Aaron Martin – Bass
Kirk Gaither – Drums, Vocals
INTERNATIONAL NEWS
VERSION 1:
Richard Russell – Lead Vocals
Steve Lockridge – Guitar, Vocals
Jorge Schwarz – Guitar
Bill Rebsamen – Keyboards, Vocals
Kendall Combes – Bass, Vocals
Kirk Gaither – Drums, Vocals
VERSION 2:
Richard Russell – Lead Vocals
Steve Lockridge – Guitar, Vocals
Kendall Combes – Guitar, Keyboards, Vocals
Chad Jasna – Bass, Vocals
Kirk Gaither – Drums, Vocals
THE ALTERNATIVE
Chuck Law – Lead Vocals
Steve Lockridge – Guitar, Vocals
Chad Jasna – Guitar, Vocals
Bill Rebsamen – Keyboards, Vocals
Donny Riley – Bass
Kirk Gaither – Drums, Vocals
REDISCOVER
Richard Russell – Lead Vocals
Steve Lockridge – Guitar, Vocals
Tim Sallee – Keyboards, Vocals
Anthony Sallee – Bass, Vocals
Kirk Gaither – Drums, Vocals
Session Work
Live Shows
Conferences
Artist Recordings
Commercial Jingles
Choir Concerts